Which protein powders are low FODMAP?  It's a question I see asked regularly within the fructose malabsorption communities.  I have my favourite brands, which I'll share with you in this post.
But given that not everyone visiting this page lives in Australia, I thought it might be more helpful to also give you a run down of what to look for when picking up a protein powder.  As this empowers you to make better choices about the products you buy, and feel confident that it will support your low FODMAP journey.
So when it comes to protein powders, there's a number of options available on the market.  The most common protein powders you have to choose from include: whey protein, collagen, pea protein, rice protein.  There's also hemp protein, soy protein, egg protein and casein (which I'll discuss in a future blog).
Why is protein important?
Protein is of course critical for our immune system function, wound healing, neurotransmitter synthesis and detoxification processes.  It's also really important for blood sugar control.  If we're going to be supplementing with protein we want to be consuming a product that has a high bioavailability.
Whey & Collagen powder
If you're not vegan or vegetarian then I normally suggest the use of a whey protein or collagen powder.  Yes whey is made from milk, but they've isolated the protein component and there is very little lactose left in the final product.  That said, I always recommend whey isolate over whey concentrate.  Not only does it contain a much higher percentage of protein (90% vs 80%) but it also contains much lower amounts of lactose.  Most whey isolate products contain less than 1g of lactose per serve, so this shouldn't be an issue if you have lactose intolerance.  It goes without saying that whey protein should be avoided completely if you have a milk allergy.
Whey Protein?
Whey protein has a bioavailability of 92%, which means that nearly all of what you consume is used within the body.  I also finds that it tastes the best, and is the smoothest in texture.  You an mix whey protein with water and put it in a shaker bottle and it's easy enough to drink.  That said I usually pop it in my blender with other ingredients to improve the taste, and make a bit more of a meal out of it.  If you're looking for inspiration then check out my wildberry smoothie recipe
Whey protein also has a lot of it's own unique health benefits.  According to Dr Robert Buist, whey protein is beneficial in the treatment of heart disease, NAFLD (non-alcoholic fatty liver disease) and kidney disease.  It reduces the post postprandial spike in blood glucose, balances the appetite signalling hormones (ghrelin and leptin) and contains very high levels of leucine (14%) which support muscle synthesis.
Collagen Protein
I'm using collagen more and more in my practice as I find it's really easy to incorporate into people's day.  It is flavourless and dissolves completely in water, which means that you can add it to your morning porridge if you like.  I also make hot chocolate's and chocolate mousse with it!
I always recommend hydrolyzed collagen peptides as they have the highest bioavailability.  Collagen contains 19 amino acids and 8 essential amino acids. The main aminos that make up collagen are glycine, proline, hydroxyproline, and arginine.  It should be noted however, that collagen is not a complete protein as it is missing tryptophan.  This amino acid is the precursor for serotonin.  So it is important that you don't rely on collagen as your sole source of protein for the day.
Collagen powder is particularly beneficial for people with digestive health issues as it helps repair the tight junctions within the digestive tract.  It also helps support the health of our connective tissue, so can also be used to support bone and joint health as well as hair, skin and nails.
Rice protein
Rice protein products contain approximately 70% protein (much lower than many of the other options).  It has a reasonably high bioavailability of 87%.  However, as a stand alone protein, brown rice does not provide all of the nine essential amino acids that the body needs.  It lacks lysine, and this is the key amino acid required for stimulation of muscle synthesis.  For this reason, manufacturers commonly add quinoa or chia proteins in order to compensate for what brown rice lacks.  Personally I also find the texture of rice protein to be quite gritty (I'm sure this varies between brands though. I'd love to know if you've found a good one!).
Pea Protein
Pea protein is usually extracted from yellow peas (aka split peas).  They are ground into a powder and concentrated/purified by removing a majority of the carbohydrates, leaving a powder that is approximately 90% protein.  Despite the fact they are made from a legume, the protein component has been isolated, so it's tolerated by most people following a low FODMAP diet.
Unlike some other plant proteins, such as rice or beans, it's a complete protein, containing all nine essential amino acids.  Despite this, it contains less leucine than whey.  You need around 35 grams of pea protein to get the same amount of leucine as you would from 20 grams of whey.  Pea protein has a lower bioavailability compared to whey or collagen, meaning your body is able to absorb less of the protein that is consumed.
That said, it may be easier on the stomach than whey.  Pea protein is my recommendation for vegans or vegetarians because because unlike rice it is a complete protein.  Secondly, it tends to have a much nicer texture so blends well into smoothies.
Other ingredients to consider
When purchasing a protein powder you want to always purchase products with as few ingredients as possible.  Ignore the nutrtional panel and just go straight to the ingredient list when you pick up the products.  This is what you need to look for:
Make sure doesn't contain fructose (many products do!)
Also check it doesn't contain sugar (I see this at lot, and this is not going to help you achieve your health goals)
Milk solids (these are used as a cheap bulk agent and increase the risk of you reacting to the product)
Dextrin and maltodextrin (these ingredients raise glycaemic load)
Avoid artificial sweeteners (sucralose, splenda, aspartame, saccharin (these ingredients exacerbate gut dysbiosis).  These are often listed by number so you have to watch out for them.  I list all of these in my Ultimate Guide To Hidden FODMAPS, which you can download via the link at the bottom of this blog.
My favourite products
I'll add to this list as I try out products but here's where it stands currently.  This is by no means a definitive list.  The aim of this guide is to teach you what to look for so that you can find a good product on your own.
Whey Protein Products:

This is available in chocolate, vanilla or an unflavoured option.  It's available for purchase online via her website.  I like this product as it contains a clean ingredient list and it comes from grass-fed cows.  It's sweetened with stevia.
This is available in vanilla, chocolate, natural, honeycomb, mint and strawberry & acai.  It's sweetened with stevia and contains a very clean ingredient list.
Collagen Protein Products

ATP Science Noway Collagen Powder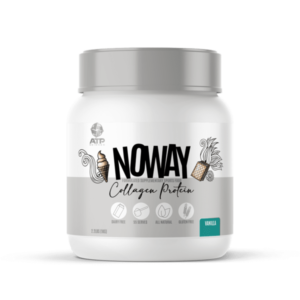 This is one of the best value collagen products I can find on the market.  And I find that is an easy way for patients to increase their protein intake, due to the fact it dissolves easily and is tasteless.  I normally recommend the flavourless product so that you have flexibility but they offer a range of flavours including: iced coffee, chocolate, wild berry, banana, salted caramel and vanilla.  The flavoured products are sweetened with stevia.  I personally found it a bit too sweet for my taste so I stick with the unflavoured option.
Pea Protein Products

This is available in vanilla, natural, or cocoa and maca flavour.  It has a smooth texture and offers a good vegan alternative to whey protein.  It is sweetened with stevia.
Nuzest products are clean in texture and free of nasties.  It's also a natural source of iron.  Nuzest is sweetened with thaumatin and katemfre fruit extract which are both natural sweeteners.  It comes in 5 flavours: smooth vanilla, rich chocolate, wild strawberry, natural and coffee coconut.
I wasn't really sure which heading I should list this under as it contains a bit of everything.  Prana protein contains a blend of pea, rice and faba bean protein, which give it a more complete amino acid of either rice or pea protein on their own.  One of the things I love about Prana protein is that it contains a digestive enzyme mix to improve your ability to break down and absorb the amino acids.  This is definitely helpful for someone with poor digestion.  That said, I personally find their products a bit sweet.  But if you have a sweet tooth it might be exactly what you've been looking for!